At Ecological Waste Management Ltd. we are committed to delivering excellent service and providing a cost effective Skip Hire and Waste Management service to all our customers both Household and Business.
From a garage clearance to a large building site, Ecological Waste Management Ltd can provide the necessary skip size suitable for the job. It is as easy as using the order form below and ordering online or telephoning the office on 042 9323030. We will then collect it and recycle as much as is possible. Various sizes of skips are available from the Mini Skip – 2 Cubic Yard Skip to the large High Sided Skip – 14 Cubic Yard Skip, or for much larger jobs we can provide a Roll On/Roll Off 20 / 40 Cubic Yards skip.
Ecological Waste Management Ltd can arrange a representative to call to your premises to advise you on a skip size, accessibility and best value for money. Ecological Waste Management Ltd will recycle everything from timber and concrete to plastic toys from your skip. No hazardous waste (including paint and fluorescent lights) or household waste can be accepted in the skip.
See below for various size and information about our skip hire.
Mini Skip – 2 Cubic Yard Skip
Suitable for:
Domestic
Business
Low volume waste producers
Builders Skip – 6 Cubic Yard Skip
Suitable for:
Domestic
Business
Low volume waste producers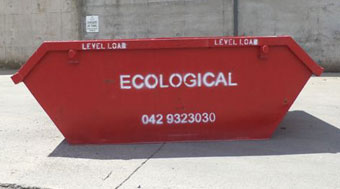 High Sided Skip – 14 Cubic Yard Skip
Suitable for:
Suitable for Domestic or Business use
Holds approx. 125 refuse bags
Fits into a single car parking space